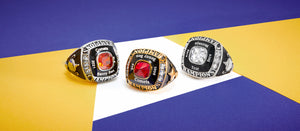 Rings Built for Champions
USE YOUR OWN LOGO
Rings Built for Champions
Rings Built for Champions
Satisfaction Guaranteed
"Very happy with this ring! This is the gold option with the purple stone. Hopefully I win my fantasy football league again so I can buy another one!"
-ingram9030
About Us
At Untamed Pack, we create rings built for champions.
By using the most durable and highest grade materials, we are the market's go-to location to create your championship ring collection.
Whether for your school, fantasy league or just for yourself, our pre-set and fully customization options allow you to personalize your hardware exactly the way you want it.
No more flimsy generic rings. No more compromises.
Celebrate the champion the right way.
Join the Untamed Pack.
Join our Winner's Circle @untamedpack